Toyota College Grad Rebate in Mobile, AL!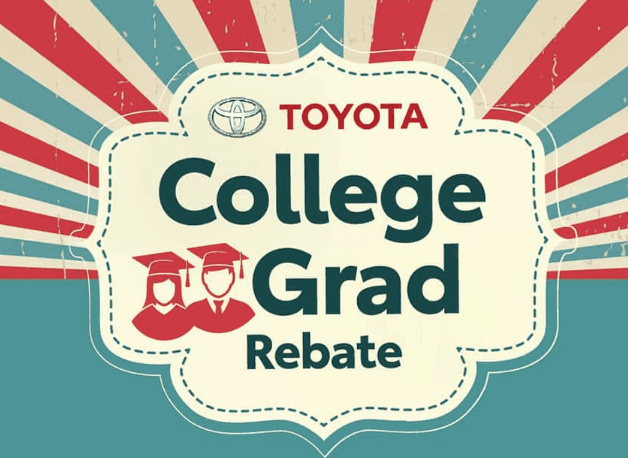 U + Hardwork = BIG REWARDS
We, at Palmer's Toyota Superstore, believe in rewarding grads. That's why we take part in Toyota's College Grad Rebate program. Graduates who take advantage of this program receive a $500 rebate to finance or lease a new Toyota.
College Grad Benefits
In addition to the $500 College Grad Rebate, you may also enjoy:
Low or no down payment
No security deposit on a lease
Monthly payments may be deferred up to 90 days on a retail installment contract
Low interest rate financing
ToyotaCare – Every new Toyota comes with no cost maintenance for two years or 25,000 miles, whichever comes first.
Eligibility
If you meet one of the following conditions, you may qualify for the $500 College Graduate Rebate from SETF.
Graduated from an accredited four-year college or university during the last two years or will graduate from such college/university within the next six months
Graduated from an accredited two-year college or registered nursing degree (diploma) program within the last two years
Currently enrolled in or have graduated from an accredited graduate degree program during the last two years
Come by Palmer's Toyota Superstore at 470 Schillinger Rd S, Mobile, AL 36695 or contact a member of our professional sales staff by calling us at (251) 639-0800. Our sales hours are Monday-Friday 8:30 AM-8:30 PM and Saturdays 8:30 AM-7 PM. You can also shop our new and used inventory online anytime! We look forward to seeing you and helping you make the most of this great rebate from Toyota!