The Toyota RAV4 Makes Wards' 10 Best Interiors List!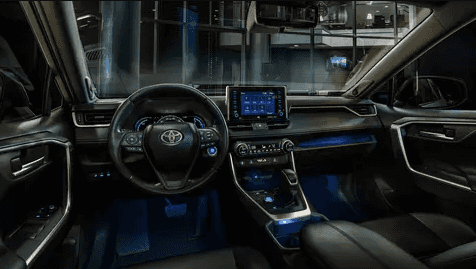 The Award-Winning RAV4 Interior!
The Toyota RAV4 is one of the top selling SUVs in the country. Shop our RAV4 inventory! Lots of things make it an appealing consumer choice from its affordability to its great fuel economy to its reliability. One other stand-out attribute to add to the list is its award winning interior look. According to Wards Auto, the RAV4 has one of the best looking interiors on the market today. First nominated to a list of 32 interiors, the RAV4 made it to the final selection of 10. This is what Ward's Auto had to say about the RAV4's good interior looks here:
"[The RAV4 Limited Hybrid is] loaded with premium features, including a leather-trimmed steering wheel, five USB ports, blue ambient light, premium audio with navigation and a soft-touch two-tier instrument panel."
The praise for the RAV4's stylish interior doesn't stop there. They were also sure to point out the RAV4 interior's penchant for changing things up and challenging expectations:
"Yet another accent is the mocha-brown trim on the cupholder bezel, a color repeated in other storage cubbies within the soothing, two-tone gray interior. Toyota is taking chances – the kind of chances this competition rewards."
You can read Ward's full breakdown of the RAV4's stylish interior here.
If you're interested in taking a closer look at the RAV4's award winning interior, head to Palmer's Toyota Superstore! You can shop our inventory here We're located at 470 Schillinger Rd S in Mobile, AL 36695. You can also reach our sales team at (251) 209-6919 to check out our RAV4 inventory and maybe even take one out for a test spin! We're your Gulf Coast family store, and we'd be happy to arrange that!