Learn About the 2019 Toyota Camry's Lane-Departure Assistance in Mobile, AL!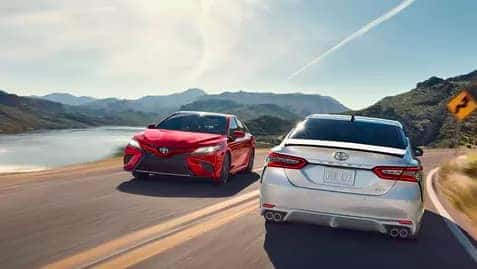 The Toyota Camry is an safety award-winning sedan and one of the safest vehicles on the road today. Take a look at some of its accolades: The 2019 Camry is an IIHS Top-Safety Pick (when equipped with LED headlights). It also the bearer of 5-Star Overall Safety Rating from the NHTSA. There's a reason the Camry is so safe, and much of its reputation has to do with its use of cutting edge of safety technology. At Palmer's Toyota Superstore in Mobile, AL, we'd like to tell you a little more about some of the Camry's technology, and show you what makes it such a stand-out sedan. Read more about Lane Departure Alert with Steering Assist:
The Toyota Camry Lane Departure Alert with Steering Assist in the all new 2019 Toyota Camry is a cutting edge safety feature that you should learn more about if you are looking to drive home one of these top selling and stylish sedans. Lane Departure Alert is designed to detect lane departures for drivers. If at any point you're drifting out of your lane, LDA will activate at speeds of 32 mph or faster. You will see and hear the alert, but that is not all the 2019 Camry offers with this cutting edge technology. The Camry's Toyota Safety Sense P (TSS-P) and Electronic Power Steering (EPS) will engage. When activated, this feature makes small corrective steering inputs to keep you in your lane.
Schedule a test drive of the all-new 2019 Toyota Camry! Palmer's Toyota Superstore is located at 470 Schillinger Rd S in Mobile! You can also reach our sales team by phone at (251) 639-0800. Our sales hours are Monday-Friday 8:30 AM to 8:30 PM and Saturdays 8:30 AM to 7 PM. Additionally, our sales department is open the last two Sundays of each month, 12 PM-6 PM. Please call to confirm. You can also start shopping our new and used inventory online anytime.
Disclaimer: Lane Departure Alert is designed to read visible lane markers under certain conditions, and provide visual and audible alerts when lane departure is detected. It is not a collision-avoidance system or a substitute for safe and attentive driving. Effectiveness is dependent on many factors including road, weather, and vehicle conditions.