Visit Our Collision Center in Mobile, AL!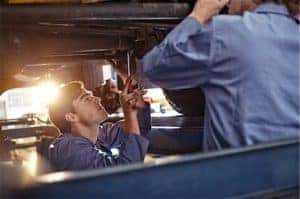 At Palmer's Toyota Superstore, we can repair body damage to your car from accidents and collisions. In fact, our Superstore Certified Collision Center utilizes the latest technology to ensure your vehicle looks as good as new following an accident or collision. We have extensive experience repairing all manner of vehicles, foreign and domestic, new and old, and welcome all vehicle makes and models. Here are some of the areas in collision repair where we specialize:
Glass Repair
Minor Collision Repair
Major Collision Repair
Scratch and Ding Repair
Bumper Replacement
At our Collision Center, we value the time of our clients. Our team of certified technicians is dedicated to restoring your vehicle to its original condition and getting you back in the driver's seat in a timely manner. That's a guarantee. Palmer's Toyota Superstore will only use Genuine Toyota Parts because we value the quality of the work we do for our clients, as well. You don't have to worry about having your car or truck repaired with salvage or imitation parts or the quality of work not living up to your high standards. Most importantly, we're ready to perform all of your body work under your Toyota Warranty.
Visit our Collision Center page to learn more! Come by Palmer's Toyota Superstore at 470 Schillinger Rd S, Mobile, AL 36695 or contact a member of our professional service staff by calling us at (251) 639-0800. Our sales hours are Monday-Friday 8:30 AM-8:30 PM and Saturdays 8:30 AM-7 PM. You can also shop our new and used inventory online anytime!